Sound archives of the CNRS - Musée de l'Homme
These sound archives gather commercial and field recordings of music and oral traditions from around the world, from 1900 to the present. Consisting of diverse types of media (wax cylinders, 78 rpm, vinyl records, magnetic tapes, audio CDs, born digital records, vidéo), these archives are among the most important in Europe in terms of quality, quantity and diversity.
The Center for Research in Ethnomusicology (CREM) manages and disseminates this this constantly growing scientific heritage. The deposites made between 1931 and 2009 at the musée de l'Homme are in co-ownership with the Muséum National d'Histoire Naturelle, under the title «Sound Archives of the Musée de l'Homme»; those deposited after that date now depend on the CNRS.
For a historical presentation of these archives, see the website of the CREM.
News
2019 : the CNRS awards our team the collective crystal for this innovative project.
The archives are involved in the European sound portal (2014-2017): Europeana Sounds and
Display audio player options are developed by the DIADEMS program and they available with a user account.
Contents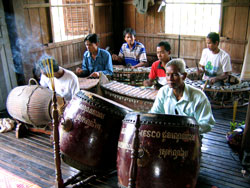 Managed by the CREM, these archives index:
✔ Over 48,000 field recordings, among 40,000 are available for listening, spread though more that 6,000 collections, representing about 4,000 hours of recordings of unpublished fieldworks.
✔ Over 17,000 published materials, 7,400 are available for listening (including more than 5,500 discs among which some are very rare).
✔ 199 countries, and 1,300 ethnic and social groups are represented, making it possible to hear a wide array of musical and sung expressions, languages and dialects.
Today, about 27,000 recordings are available for listening on free access. The others are only available with an access code. To obtain one, write to crem.lesc (at) cnrs.fr, explaining the reasons for your request. The archives database is also available on computer sets at the CREM, at the Bibliothèque Eric de Dampierre, at the Médiathèque du Musée du Quai Branly and at the Bibliothèque du Muséum National d'Histoire Naturelle.
Organization of the catalogue
The database is organized on 4 hierarchical levels of description: Archives Series (Fonds) > Corpus > Collection > Item. The main level of description is 'Collection'. Each gathers a relevant ensemble of sound items corresponding to recordings collected within one research fieldwork or to a published record. Some collections are assembled together in corpuses and archive groups linked to their collectors.
The number of recordings available online on the platform is constantly increasing. They are indicated by a green mark. The platform's users fill descriptive forms collaboratively and gradually : researchers, students, archivists working together. The CREM welcomes all collaborations aiming to enrich and enhance this valued musical patrimony. You can write to us at crem.lesc (at) cnrs.fr.
Musical selection